From Killing Eve to Prima Facie, the Dynamic Roles of Jodie Comer
The Dynamic Roles that Led Jodie Comer to Prima Facie
---
Jodie Comer, the Emmy-and BAFTA-winning actor has taken the world by storm with her iconic, powerful, and challenging performances. Her attention to detail and ability to capture the essence of a role has propelled Jodie Comer to new heights, and now she is tackling her most challenging role as Tessa in Suzie Miller's Prima Facie.
With her West End show coming to Fathom Events and her Broadway debut slated for spring of 2023, we are highlighting some of Jodie Comer's most memorable performances that led her to Prima Facie.
---
The Early Days of Jodie Comer
Her ability to transform roles and breathe distinct life into characters started at an early age. At 12 years old, Comer performed a monologue at the Liverpool Performing Arts Festival about the Hillsborough disaster. She won first place and kickstarted her amazing career [1].
After her monologue, Comer started working for multiple BBC radio plays and considers those her first jobs as a professional actor. She found acting to be rewarding, pursuing roles that connected and challenged her. In an interview with Glass Magazine, Jodie Comer stated that "what we do is art, [and] it's about being true to yourself and choosing projects you get that gut feeling about."
She would land multiple roles on popular BBC TV shows such as My Mad Fat Diary (2013) and Doctor Foster (2015), but Comer considers her first breakout role as Ivy Moxam in Thirteen (2016). The story follows Ivy as she tries to assimilate back into society after being a kidnapping victim who escaped after being held hostage for 13 years.
Jodie Comer craved a complex role at this point in her life, stating "I was just at a stage where I was doing work that I loved, but was just so hungry for something that would challenge me" [2].
---
Jodie Comer's Most Iconic Roles
Following the success of Thirteen, Jodie Comer would land her most notable role as Villanelle in Killing Eve (2018), where she played a Russian assassin who is obsessed with killing people, luxury products, and MI-6 agent, Eve Polastri (Sandra Oh).
Her portrayal of Villanelle captivated viewers from the first moments she was on screen. Comer injected striking, complicated, and unpredictable energy into the character, with the most challenging and exciting part- portraying a killer. Villanelle is "very free as a person, free from self-consciousness, which meant I had to be as well" said Comer [1].
Jodie Comer's performance on Killing Eve would earn her a BAFTA TV award and an Emmy, putting her on Hollywood's radar. She went on to star in Free Guy (2021) alongside Ryan Reynolds, but her most challenging Hollywood role to date came in Ridley Scott's The Last Duel (2021).
In The Last Duel, Jodie Comer starred as Marguerite de Carrouges, a medieval French noblewoman who spoke out and demanded justice after being sexually assaulted. In an interview with Variety, she passionately stated "[Ridley and the writers] wanted her to be the hero, to speak her truth."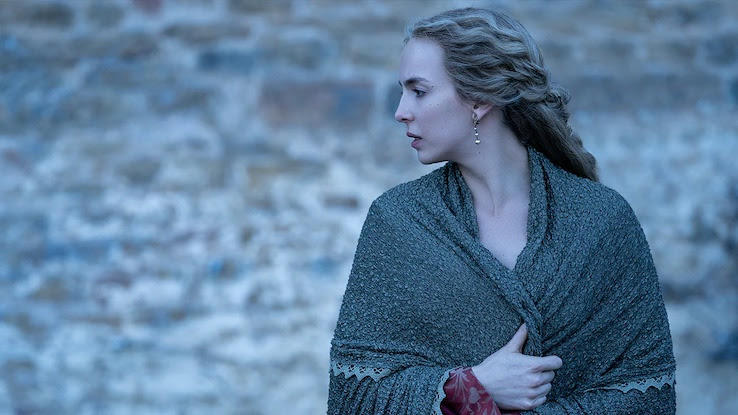 ---
Prima Facie (2022)
After taking Hollywood films by storm, Jodie Comer switched gears to the stage and found a challenging role that shed light on a critical issue in contemporary society. Suzie Miller's play, Prima Facie, (a legal term for "sufficient to establish a fact or raise a presumption unless disproved or rebutted."), follows the story of a young defense lawyer, Tessa, who is ruthlessly competitive, hungry, and out to prove herself. She wins case after case until one day she finds herself on the other side of the witness stand speaking out against cases she once defended.
In this one-woman production, Jodie Comer has nowhere to hide, offering the audience a brilliant performance anchored in raw emotion. The power of her acting comes from her ability to embrace each character wholly and change directions quickly and effectively, amplifying the play's message and leaving us speechless as Tessa stands up to a patriarchal legal system.
Prima Facie offered Jodie Comer a chance to convey a powerful story, boldly calling for much needed change in a sensitive but ever-relevant subject. The popularity of the West End play has led the production to be picked up on Broadway, setting the stage for Comer's Broadway debut.
Jodie Comer shines in Prima Facie, expressing that she is "honored to play a part in the telling of this story and beyond thrilled that [she can continue telling it]" [3].
---
The Many Faces of Jodie Comer
From My Mad Fat Diary to Prima Facie, Jodie Comer has always chased dynamic and sometimes vulnerable roles and explored the different faces of a character to find an outlet for her artistic expression.
When Jodie Comer was asked if she was a passionate actor, she responded "emotions fascinate me, just being able to express myself through acting. I love that [2]."
Don't miss Jodie Comer's powerful performance in Prima Facie, live in theaters nationwide on July 21! You can find tickets and showtimes here.